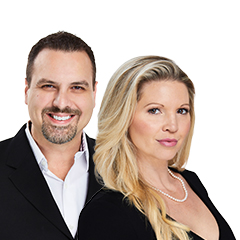 With decades of combined experience, Jefferson and Meghan pride themselves on integrity and service and are committed to the best interests of their clients. This dynamic duo can guide you on pocket areas that are up and coming, show you the quiet spaces, the trendy fun spots, and Jefferson is a resident expert on where to find the best tacos in town!

Jefferson is a licensed real estate broker, specializing in residential real estate in the Austin area. He immediately fell in love with Austin when he moved here from Southern Missouri in 2001. Since earning his real estate license in 2006, Jefferson has gained immense experience in various market conditions and price points. The years have given him unique skills that set him apart from other experienced agents, and with the unmatched client support J & M Realty provides, total client satisfaction has never been higher.

Meghan started her career as a Real Estate Errors and Omissions Broker and held designations in Florida, Pennsylvania, and Texas. During her time as a Real Estate E&O Broker, she gained immense knowledge of the industry and quickly discovered her passion for real estate sales. As a strong negotiator, she positions her clients to get to the closing table quickly with a positive outcome. Meghan graduated cum laude from The University of Dayton in Dayton, OH in 2002.

Jefferson and Meghan have called Austin and the Lakeway area home for over 15 years and there's no place they'd rather be! Both have volunteered at the administrative level throughout Austin and Lake Travis and are devoted to their community, its positive growth, and its youth programs. Lastly, when they're not negotiating on your behalf, Jefferson and Meghan are the very proud parents of Madailein, Maura, and Emma, their little real estate agents in training!
Meghan always has a positive word and is a joy to work with. She an excellent communicator making an unfamiliar process comfortable. Megan is always ready to share when asked, her knowledge about the current market. This is our second home transaction with (a sale in 2016 and this purchase) Meghan, and she has worked diligently with us to solve any peculiarities of our situation. She is a trusted confidant which we would happily endorse.
Bill and Dee Echols
This was our first time purchasing a home, and we went with Jefferson and couldn't be happier with our service. Jefferson was helpful at every turn from start to finish we highly recommend him.
Joshua Heath
Jefferson is the man! We were so happy with his expertise and amazing service throughout the entire buying process! We made a good friend as well!!
Tracy Adrienne McCullough
I have purchased two homes using Jefferson Kimbrough, and he is absolutely AMAZING!! I couldn't go anywhere else and have such excellent service.
Erin Heath
Jefferson Kimbrough was a pleasure to work with! He walked us through every step of the process and was always there to answer any questions we had or to just unlock doors if that was all we needed. I will definitely be recommending Jefferson to anyone looking to work with a courteous, professional Realtor with their client's best interests at heart.
Lonnie McCullough
I want to express my appreciation to Jeff and Meg Kimbrough for their help and advise in getting my property sold in Manor, TX. Since I do not live in Texas, they went above and beyond in making the sale a very smooth and helpful transition for me. Jeff and Meg were very thorough and informative in getting this sale completed without me having to travel to Texas. In addition and foremost, they sold the property for more than our asking price! I would highly recommend them and ask for Jeff and Meg to be my agents again.
Mary Ann Artz
Jefferson did an outstanding job for my wife and I. He persevered even when I was pessimistic about ever finding a house that suited me. Jefferson never 'encouraged' me to settle for something less and consistently maintained that he would find us the right house. He listened to me, respected my idiosyncrasies and guided me with knowledge and expertise. He was always on the job sifting through the listings looking for that 'just right' property. Jefferson made me feel like we were his only client. I will recommend Jefferson to my family, friends, and acquaintances that are looking for a house.
Mark Whitehair
Jefferson did a great job in helping me to prep my house for sale so that I could get the best price. He was very professional and made recommendations that really made a difference. I got a full price offer on the first day, with backup offers from the open house. Jefferson walked me through every step of the process and gave me great advice. I could not have done it without him.
Kim Coogan
Jefferson was awesome. I was stressed going into the home buying process, but it was probably one of the easiest things financially I have done. A huge part of it is because of Jefferson. He made my husband, and I feel secure with our decisions, and he was constantly on the look out for properties that would work for us. I can honestly say we were both kept in the loop with everything. He answered all questions promptly even when he was out of town.
Laura Wilson
We love Jefferson Kimbrough and never would buy or sell a house without him as our agent!
Bob and Lisa
My wife and I are definitely on the Jefferson train! Going back to when we sold our last house and the buyer decided at the 11th hour they didn't want to do a leaseback and Jefferson helped us pack and move in the middle of the week.
Deven Peterson
Jefferson is one of the most professional people I have dealt with. He absolutely has his clients in their best interest and will do whatever it takes to make sure they understand the complexities of buying and/ or selling a home. We did both and used Jefferson for both sides. Could not have gone smoother given our complex situation. He knows how to put the big boy pants on and go to work. Highly recommend for anyone selling or buying. Would use him again in the future.
Brian Agnew
Jefferson is one of the hardest workers that I know. He is an excellent communicator and very quick in his responses. He is very knowledgable and provides great advice... Especially for first time home buyers like my wife and I. We highly recommend him and will continue to work with him in the many years to come!
Danny La